Discover the Capital
Madrid
Madrid is the Spanish capital that attracts the most tourists, offering a tourist offer full of cultural, monumental and leisure landmarks. Learn about the essential visits you must make when you visit us, staying at the Hotel Best Osuna.
from 51.36€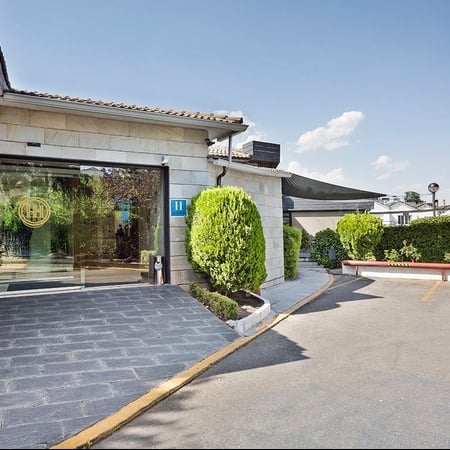 Best Osuna Madrid Feria
THE HOTEL IS OPEN
Hotel Best Osuna - Madrid Feria is set in beautiful gardens, 5 minutes 'drive from Madrid's IFEMA Exhibition Center and 8 minutes' drive from Barajas Airport, and has an outdoor pool (open in the winter season). summer, check dates).
The hotel has large open spaces, a swimming pool, a restaurant and a room for events or meetings. A free shuttle service to IFEMA is offered during trade fairs and a free shuttle service to Barajas Airport. The H20 restaurant serves Mediterranean dishes in a setting overlooking the seasonal pool.
<iframe src="https://www.google.com/maps/embed?pb=!1m18!1m12!1m3!1d3036.0043053681247!2d-3.6153813837875775!3d40.45304167936104!2m3!1f0!2f0!3f0!3m2!1i1024!2i768!4f13.1!3m3!1m2!1s0xd422fadb987a561%3A0x4684a8118db89277!2sHotel%20Best%20Osuna%20Feria%20Madrid!5e0!3m2!1ses!2ses!4v1581437012585!5m2!1ses!2ses" width="855" height="360" frameborder="0" style="border:0;" allowfullscreen=""></iframe>
Incredible discounts
Special prices
15% discount for reservations made 30 days or more before arrival.
Non-refundable and non-cumulative offer

15% Discount for minimum stay 3 nights and Non Refundable Offer.
Booking on the official website
Exclusive benefits
We guarantee the best price
Best Hotels guarantees the best online price for your reservation.
100% secure booking
Best Hotels guarantees a 100% secure booking process.
No management fees
Best Hotels will not charge you any management fees for your reservation.
Direct payment at the hotel
Best Hotels makes it easy for you to not have to pay anything until your arrival.
See advantages