Membership in the Best Hotels Club only brings good things. The only essential requirement to be able to be part of it is to have, at least, a reservation with us made through your trusted travel agency, our website or the phone. From that moment on, all are advantages.

The discounts will only be applied to the services contracted from the issuance of the card.
We explain as below.


3 SIMPLE STEPS TO FOLLOW:
1
Make a reservation with us, made through your trusted travel agency, our website or by phone to have a booking reference.
2
Access the Best Hotels Club section and complete the registration form.
3
Present your Best Hotels Club Card, which you will receive by email, at reception.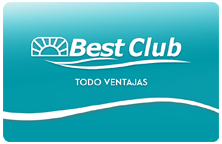 ADVANTAGES AND BENEFITS OF THE EXCLUSIVE BEST HOTELS CLUB
We would like to invite you to your first drink on holiday (not including city hotels). At check-in, you will be provided with a voucher you can use at the hotel bar.* - Valid for soft drinks, water, beer, coffee or tea.
Courtesy mini-bar in 4-star hotels (welcome pack: 2 bottles of water and 2 soft drinks).
Free use of the safety deposit box.
10% discount on orders made at the bar, as long as they are charged to your room (the discount will be applied when the amount is charged to your room). Not including city hotels.
50% discount on our parking service (subject to availability).
50% discount on 1 spa circuit per person and per booking (subject to availability). Service reserved for over 18s.*
You will be exempt from paying deposits for services that require one (with the exception of Hotel Best Michelangelo).
Possibility of choosing between lunch or dinner for half board, as long as you inform reception 24 hours in advance. Not including city hotels.
Free WiFi in the rooms of hotels that offer this service.
You may check-out later than midday for free, as long as you inform us on arrival and subject to hotel availability.*
Best price guaranteed when making your booking on our website: www.besthotels.es.
Special rates for business meetings, events, weddings, etc.
You will periodically receive information on exclusive offers, promotions and discounts.
Registration Form
Pursuant to the Data Protection rules: REGULATION (EU) OF THE EUROPEAN PARLIAMENT AND OF THE COUNCIL of 27 April 2016 (GDPR), Best Hotels S.L. makes available to you all the additional information concerning the treatment of your personal data:
Responsible:
BestHotels S.L, domiciled at Avenida Antonio Machado, 66, local 22, 29630 Benalmádena (Prov. Málaga) Spain. Telephone No. +34 977 351 505. Contact email for privacy issues: dpo@besthotels.es.
Purposes:
a) to manage the contact data that makes it possible for us to send you promotions and information on products and services offered by us or third-party partners b) to send information on exclusive offers, discounts and promotions on a regular basis.
Legitimacy:
Consent of the interested party and in accordance with any applicable statutory requirements.
Recipients:
The data will be communicated to the Hotels' management companies in order to handle the exclusive offers, discounts and promotions that you will receive as a member of the BestHotels Club. The data will not be transferred to third parties unless said transfer is necessary to handle the advantages enjoyed by the members of the BestHotels Club or is required by law.
Rights:
You have the right to access, amend erase the data or oppose the processing of said data or any of the purposes and a number of other rights, as explained in the additional information.
Additional Information:
You may find further and more detailed information on data protection at
Política de Privacidad
To become a member of our Club you must have first made a booking at Best Hotels through your trusted travel agency, our website or over the phone. To do so, the first step is to enter your booking reference, which is the number you will find on your confirmation email. Then you can enjoy many advantages during your stay. You can also ask for a card in the hotel you have chosen to visit when you arrive. We will send one to your address so you can start to enjoy many benefits on your next stay.
For more information, contact us through any hotel in our chain, by calling our central offices (+34 902 246 642 or +34 977 374 203) or by emailing our special Best Hotels Club customer service department (info@besthotels.es).
Booking on the official website
Exclusive benefits
We guarantee the best price
Best Hotels guarantees the best online price for your reservation.
100% secure booking
Best Hotels guarantees a 100% secure booking process.
No management fees
Best Hotels will not charge you any management fees for your reservation.
Direct payment at the hotel
Best Hotels makes it easy for you to not have to pay anything until your arrival.
See advantages