Hotels with
Cycling friendly
Hotels for cycling in the area. Services and facilities for the maintenance of bicycles and organized cycling routes.
from 44€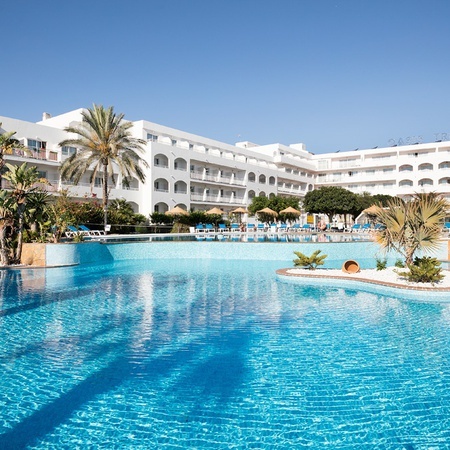 Costa de Almería
Best Oasis Tropical
Beachfront
Families
Children's Animation
Best Oasis Tropical
THE HOTEL IS OPEN
On the coast of Mojácar, the Best Oasis Tropical Hotel is perfect for a family beach holiday. And if you prefer, enjoy cooling off in our pool, even in winter! Our hotel has an indoor pool so you can continue taking a dip last summer.
<iframe src="https://www.google.com/maps/d/u/0/embed?mid=1d-0mDMhsTgNZ96yoAtqBGr3PZ1M" width="855" height="360"></iframe>
Do not wait more
Families
Up to -5% discount
The price of your stay will go up the closer you are to your vacation. Wait no more and book before our prices rise!

1st child free of charge.
· To travel from 05.09.2021 to 31.10.2021.
1st child 50% discount.
· To travel from 02.07.2021 to 04.09.2021.
· Cumulable with other offers.
· Childs (2 to 12 years old) sharing room with 2 adults.

Are you determined to book your next vacation?
We have good news: If you book with an ADVANCE PAYMENT rate, we offer you up to a 5% discount!

Best Oasis Tropical
Restaurant Buffet restaurant with show cooking · Formal clothing required at dinner (long trousers) · You will be assigned an access to the dining room on arrival · Breakfast: 8.15am-10.30am · Lunch: 1.30pm-3.00pm · Dinner: 8.15pm-10.00pm
Brasseria "Palapa" In High Season Buffet restaurant with show cooking · Drinks not included in the half-board and full-board plans · Formal clothing required at dinner (long trousers) · Breakfast: 8.00am-10.15am · Lunch: 1.00pm-3.00pm · Dinner: 8.00pm-10.30pm Buffet restaurant with show cooking · Formal clothing required at dinner (long trousers) · Breakfast: 8.00am-10.30am · Lunch: 1.00pm-3.00pm · Dinner: 8.00pm-10.00pm Buffet restaurant with show cooking · Formal clothing required at dinner (long trousers) · Breakfast: 8.00am-10.15am · Lunch: 1.00pm-2.30pm · Dinner: 7.00pm-9.30pm Buffet restaurant with show cooking · Formal clothing required at dinner (long trousers) · Breakfast: 8.00am-10.15am · Lunch: 1.00pm-3.00pm · Dinner: 8.00pm-10.00pm Buffet restaurant with show cooking · Formal clothing required at dinner (long trousers) · Breakfast: 7.30am-10.30am · Lunch: 1.00pm-3.00pm · Dinner: 7.00pm-10.00pm Buffet restaurant with show cooking · Formal clothing required at dinner (long trousers) · Breakfast: 8.00am-10.15am · Lunch: 1.00pm-2.30pm · Dinner: 7.00pm-09.30pm Buffet restaurant with show cooking · Formal clothing required at dinner (long trousers) · Breakfast: 8.00am-10.15am · Lunch: 1.00pm-2.30pm · Dinner: 7.00pm-9.30pm Buffet restaurant with show cooking · Wok · Special space for pasta and pizza · Formal clothing required at dinner (long trousers) · Breakfast: 8.00am-10.30am · Lunch: 1.00pm-2.30pm · Dinner: 7.00pm-9.30pm Buffet restaurant with show cooking · Wok · Special space for pasta and pizza · Formal clothing required at dinner · Breakfast: 8.00am-10.30am · Lunch: 1.00pm-2.30pm · Dinner: 7.00pm-9.30pm Buffet restaurant with show cooking · Formal clothing required at dinner (long trousers) · Breakfast: 8.00am-10.15am · Lunch: 1.00pm-2.30pm · Dinner: 7.00pm-9.30pm Buffet restaurant with show cooking · Formal clothing required at dinner (long trousers) · Breakfast: 8.00am-10.30am · Lunch: 1.00pm-3.30pm · Dinner: 7.30pm-10.00pm (May vary according to season) Buffet restaurant with show cooking · Formal clothing required at dinner · Breakfast: 8.00am-10.00am · Lunch: 1.00pm-3.00pm · Dinner: 8.00pm-10.00pm Buffet restaurant with show cooking · Formal clothing required at dinner (long trousers) · Breakfast: 8.00am-10.15am · Lunch: 1.00pm-3.00pm · Dinner: 8.00pm-10.00pm Buffet restaurant with show cooking · Oriental Wok · Special space for pasta and pizza · Formal clothing required at dinner (long trousers) · Breakfast: 8.00am-10.30am · Lunch: 1.00pm-3.00pm · Dinner: 8.00pm-10.00pm Buffet restaurant with show cooking · Drinks not included in the half-board and full-board plans · Formal clothing required at dinner (long trousers) · Breakfast: 8.00am-10.30am · Lunch: 1.30pm-3.45pm · Dinner: 8.30pm-10.45pm Buffet restaurant with show cooking · Formal clothing required at dinner (long trousers) · Breakfast: 7.30am-10.00am · Lunch: 1.00pm-3.00pm · Dinner: 7.30pm-10.00pm Buffet restaurant with show cooking, Wok · Brasserie (in high season) · Breakfast: 7.30am-10.00am · Lunch: 1.30pm-3.30pm · Dinner: 8.00pm-10.00pm Buffet restaurant with show cooking · Formal clothing required at dinner (long trousers) · Breakfast: 7.30am-10.30am · Lunch: 1.15pm-3.30pm · Dinner: 8.00pm-10.30pm Buffet restaurant with show cooking · Drinks not included in the half-board and full-board plans · Formal clothing recommended at dinner · Breakfast: 8.00am-10.30am · Lunch: 1.30pm-3.30pm · Dinner: 7.00pm-10.00pm "Subject to possible changes" Buffet restaurant with show cooking · Drinks not included in the half-board and full-board plans · Formal clothing required at dinner (long trousers) · Breakfast: 8.00am-10.30am · Lunch: 1.00pm-3.30pm · Dinner: 8.00pm-10.30pm Buffet restaurant with show cooking · Drinks not included in the half-board and full-board plans · Formal clothing required at dinner (long trousers) · Breakfast: 8.00am-10.30am · Lunch: 1.00pm-3.30pm · Dinner: 8.00pm-10.30pm Buffet restaurant with show cooking · Formal clothing required at dinner (long trousers) · Breakfast: 8.00am-10.30am · Lunch: 1.30pm-3.00pm · Dinner: 8.00pm-10.00pm Buffet restaurant with show cooking · Formal clothing required at dinner (long trousers) · Breakfast: 7.30am-10.00am · Lunch: 1.30pm-3.00pm · Dinner: 6.30pm-9.15pm (May vary according to season) Buffet restaurant with "open kitchen" and "Wok" · Formal dress (long pants) is required for dinner · Breakfast 7.30am-10.30am · Lunch 1.00pm-3.30pm · Dinner 7.30pm-10pm Buffet restaurant "Show cooking"
Formal dress (long pants) is required for dinner
Breakfast 07: 00h-10: 00h • Lunch 13: 00h-15: 00h • Dinner (Summer 19: 00h-22: 00h - Winter 18: 30h-21: 30h)

-----------------

"Mediterráneo" Restaurant (Optional paid service)
Dinner from 19:00h. to 22:00h. (previous reservation at the buffet restaurant)

Clients with a reservation in a Senator room, Senator Pool or Suite, on an A.I, H.B or F.B regime, can have dinner during the entire stay with prior reservation. (drinks not included except by All Inclusive).

Clients with reservation in other types of room, on a HB or FB basis:
(previous reservation and drinks are not included)
• Stays of 7 nights: 1 dinner included in the restaurant
• Stays from 8 to 14 nights: 2 dinners included in the restaurant
• Stays of 15 nights or more: 3 dinners included in the restaurant
Buffet restaurant with show cooking · Drinks not included in the half-board and full-board plans · Formal clothing required at dinner (long trousers) · Breakfast: 7.30am-10.30am · Lunch: 1.00pm-3.00pm · Dinner: 6.30pm-9.30pm Buffet restaurant with show cooking · Formal clothing required at dinner · Breakfast: 7.30am-10.00am · Lunch: 1.00pm-3.00pm · Dinner: 6.30pm-9.30pm (Winter) & 7.00pm-10.00pm (Summer) Buffet restaurant with show cooking · Formal clothing required at dinner (long trousers) · Breakfast: 8.00am-10.30am · Lunch: 1.00pm-3.00pm · Dinner: 7.30pm-10.00pm Forum restaurant with Mediterranean cuisine · Buffet Breakfast € 9 / Person · Breakfast hours from 7:00 to 10:00 Monday - Friday and 8:00 to 10:30 weekends Buffet restaurant where you can taste the best dishes of local and Mediterranean cuisine.

Breakfast: Open every day from 07:00 to 10:30 (€ 9 / person). Buffet service with a selection of juices, hot dishes, a variety of cold cuts and cheeses, assortment of pastries, products for coeliacs, fruits, dairy products, coffees and teas.
Lunch: Open from Monday to Friday from 1:00 p.m. to 3:30 p.m. . Daily menu and menu. With salad buffet to taste, 8 starters, 8 main dishes and dessert buffet.
Dinners: Open every day from 8:00 p.m. to 10:30 p.m. A la carte service with a selection of the best seasonal and market dishes.
You can also taste a combination of tapas at the bar enjoying your favorite drinks or cocktails. Buffet Restaurant · Breakfast € 9 / Person Buffet Breakfast · Breakfast € 9 / Person Buffet restaurant for breakfast, lunch and dinner. We offer our clients a buffet of Mediterranean cuisine, with a variety of salads, main dishes and our traditional desserts. Breakfast € 8 / Person Restaurant H20 · Hours from 13:00 to 15:30 and from 20:30 to 23:00 every day of the week. H2O restaurant at the Hotel Osuna Feria Madrid is an ideal place to pause or put the icing on a day in Madrid. Its unique atmosphere, in which the gardens and terraces around the pool stand out, is a luxury companion to the Mediterranean cuisine offered by our chefs, and which will make your evening an unforgettable moment. Try our specialties! Our menu stands out for its dishes made with traditional recipes to which we always bring a distinctive and personal touch. Enjoy our Tuna Tartar with mustard in grain, with pesto and toasts, the Iberian Presa with onion in red wine and lemon rind, or a dessert such as creamy dark Chocolate. In our buffet you can taste traditional Mediterranean cuisine and international gastronomy. We offer two themed dinners a week: Mexican and Asian. In the lunch and dinner services we offer the Show Cooking service in the buffet. Hours: Breakfast from 08:00 - 10:00 · Lunch from 13:00 - 14:30 · Dinner from 19:00 - 21:30
Swimming pool(s)
s Swimming pools for adults / children and one themed pool for children with pirate ship and water games
Indoor pool not available from October 18
Infinity pool for the exclusive use of guests with a superior room reservation
Outdoor pool for adults and children
Outdoor pool for adults and children · Heated indoor pool
Outdoor pool for adults and children with slides and 2 Jacuzzis · Heated indoor pool (Temporaly closed)
Outdoor pool
Outdoor pool for adults and children
Outdoor pool for adults and children · Outdoor jacuzzi
Four outdoor pools; two for adults (one with jets and bubbles) and two for children (one themed with a boat and slides)
Three outdoor pools; two for adults and one for children · Outdoor jacuzzi
Outdoor pool for adults and children · Outdoor jacuzzi
Outdoor pool for adults and children
Outdoor pool for adults and children
Outdoor pool for adults and children
Outdoor pool for adults and children · Outdoor jacuzzi
Outdoor pool for adults and children
Outdoor pool for adults and children
Three outdoor pools; two for adults and one for children · Indoor pool heated in winter
3 Swimming pools:


2 swimming pools (one for adults, and one for children) open all season.


1 adult pool and 1 themed pool for children (with water games)
Outdoor pool for adults and children · Large outdoor jacuzzi
Two outdoor pools; one for adults and one themed pool with pirate ship for children with water games
Outdoor pool for adults and children · Heated pool in winter · Outdoor jacuzzi
Outdoor pool for adults and children · Heated pool in winter · Outdoor jacuzzi
Outdoor pool for adults and children
Three outdoor pools; two for adults and one for children
Outdoor pool for adults and children · Outdoor jacuzzi
2 Outdoor pools (1 partially heated in winter) for adults and 1 outdoor pool for children · 2 Outdoor jacuzzis · Waterfall · Hanging bridge
Six outdoor pools; four for adults and two for children · One pool heated all year · Central waterfall
Heated pool with water jets · Pool for adults and children · Outdoor jacuzzi
Outdoor pool for adults and children · Heated pool and jacuzzi (Closed from 15/06 to 15/09)
Outdoor pool only open in summer. Check dates by calling the hotel
View hotel