Es sind alles nur Vorteile wenn Sie Mitglied werden möchten. Der einzige Bedingung um Mitglied werden zu können ist, mindestens einmal bei uns reserviert zu haben, über Ihren vertrauten Reisebüro, direkt auf unserer Webseite oder per Telefon und ab sofort sind alles nur noch Vorteile.

* Die Ermäßigungen gelten nur für Dienstleistungen, die mit der Ausstellung der Karte und einem Mindestaufenthalt von 3 Nächten abgeschlossen wurden. Alle Privilegien und Vorteile können ohne vorherige Ankündigung geändert werden.

Wenn Sie bereits Mitglied unseres Clubs sind, können Sie sich hier anmelden, um Ihre Daten einzusehen/zu ändern:


Falls Sie es noch nicht sind, erklären wir Ihnen unten, wie Sie beitreten können.


DIESE DREI EINFACHE SCHRITTE VERFOLGEN:
1
Reservieren Sie bei uns über Ihre Reiseagentur, unsere Webseite oder direkt am Telefon damit Sie alsbald über einen Buchungscode verfügen.
2
In der Sektion Club Best Hotels einloggen und das Anmeldeformular ausfüllen.
3
Bei Ankunft die Kundenkarte, die Sie per E-Mail erhalten werden, in der Rezeption vorzeigen.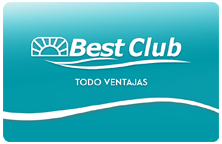 VORTEILE UND PRIVILEGIEN DES EXKLUSIVEN CLUB BEST HOTELS
Wir laden Sie zu Ihrem ersten Urlaubsdrink ein, mit Ausnahme der Stadthotels. Beim Check-in werden Sie einen Bon erhalten, den Sie gegen ein Getränk in der Hotelbar einlösen können.* - Gültig für Softdrinks, Wasser, Bier, Kaffee oder Tee.
Minibar für Gäste in den 4* Hotels (Willkommenspaket: 2 Flaschen Wasser und 2 Erfrischungsgetränke).
Freie Nutzung des Safes.
10% Rabatt auf die Bar-Bestellungen, sofern diese auf Ihr Zimmer berechnet werden (das Skonto wird somit sofort verrechnet). Mit Ausnahme der Stadthotels.
50% Rabatt über Parkplatzgebühren (je nach Verfügbarkeit).
50% Rabatt für 1 Runde Spa pro Person und Reservierung (je nach Verfügbarkeit). Nutzung ab 18 Jahren.*
Sie sind von der Abgabe einer Kaution für bestimmte Dienstleistungen befreit (mit Ausnahme von der Apartments Best Michelangelo).
Die Möglichkeit, beim Buchen von Halbpension auszuwählen, ob Sie Mittagessen oder Abendessen bevorzugen, unter der Voraussetzung,dass die Rezeption mindestens 24 Stunden im Voraus benachrichtigt wird. Mit Ausnahme der Stadthotels.
Freier Wifi-Anschluss in den Hotelzimmern, die über diesen Service verfügen.
Sie können bei der Abreise bis Mittag im Zimmer verbleiben (late check out) ohne zusätzliche Kosten, sofern Sie bei Ankunft darüber Bescheid geben und die Hotelverfügbarkeit es erlaubt.*
Den garantiert besten Preis beim buchen über unsere Webseite: www.besthotels.es
Spezialtarife für Ihre Tagungen, Veranstaltungen, Feiern und Hochzeiten...
Spezialtarife für Ihre Tagungen, Veranstaltungen, Feiern und Hochzeiten....
* Rabatte gelten nur für Dienstleistungen, die mit der Ausstellung der Karte bei einem Mindestaufenthalt von 3 Nächten abgeschlossen wurden, und können ohne vorherige Ankündigung geändert werden.
Anmeldeformular
Pursuant to the Data Protection rules: REGULATION (EU) OF THE EUROPEAN PARLIAMENT AND OF THE COUNCIL of 27 April 2016 (GDPR), Best Hotels S.L. makes available to you all the additional information concerning the treatment of your personal data:
Responsible:
BestHotels S.L, domiciled at Avenida Antonio Machado, 66, local 22, 29630 Benalmádena (Prov. Málaga) Spain. Telephone No. +34 977 351 505. Contact email for privacy issues: dpo@besthotels.es.
Purposes:
a) to manage the contact data that makes it possible for us to send you promotions and information on products and services offered by us or third-party partners b) to send information on exclusive offers, discounts and promotions on a regular basis.
Legitimacy:
Consent of the interested party and in accordance with any applicable statutory requirements.
Recipients:
The data will be communicated to the Hotels' management companies in order to handle the exclusive offers, discounts and promotions that you will receive as a member of the BestHotels Club. The data will not be transferred to third parties unless said transfer is necessary to handle the advantages enjoyed by the members of the BestHotels Club or is required by law.
Rights:
You have the right to access, amend erase the data or oppose the processing of said data or any of the purposes and a number of other rights, as explained in the additional information.
Additional Information:
You may find further and more detailed information on data protection at
Política de Privacidad
Um Mitglied in unserem Club zu werden, musst du zuerst bei Best Hotels durch dein vertrauenswürdiges Reisebüro, unsere Website oder über das Telefon reserviert haben. Um dies zu tun, ist der erste Schritt, um Ihre Buchungsreferenz eingeben, die die Nummer ist, die Sie auf Ihrer Bestätigungs-E-Mail finden werden. Dann können Sie während Ihres Aufenthaltes viele Vorteile genießen. Sie können auch nach einer Karte im Hotel fragen, das Sie gewählt haben, um zu besuchen, wenn Sie ankommen. Wir schicken Ihnen eine E-Mail-Adresse, damit Sie es aktivieren und beginnen können, viele Vorteile zu genießen.
Für weitere Informationen kontaktieren Sie uns über ein Hotel in unserer Kette, indem Sie unsere Zentralstellen (+34 977 374 203) oder per E-Mail an unsere spezielle Best Hotels Club Kundendienstabteilung (info@besthotels.es) rufen.
Buchung auf der offiziellen Website
Exklusive Vorteile
Wir garantieren den besten Preis
Preis Best Hotels garantiert Ihnen den besten Preis Online bei Ihrer Reservierung
Reservierung 100% Sicherheit
Best Hotels garantiert Ihnen einen 100% sicheren Reservierungsprozess
Ohne Verwaltungskosten
Best Hotels verlangt keine Gebühren für Ihre Reservierung.
Direkte Zahlung im Hotel
Best Hotels ermöglicht Ihnen, bis zu Ihrer Ankunft, keine Vorauszahlung leisten zu müssen.
Vorteile sehen